Burton Latimer firm Alpro UK in £28m expansion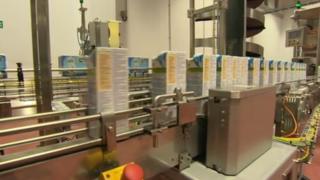 A soya food and drink manufacturer in Northamptonshire has doubled in size bringing 50 jobs on new product lines.
American owned Alpro UK has been based in Burton Latimer near Kettering for about 15 years.
Three new operating lines, costing £28m, have been officially opened to manufacture products using almonds, hazel nuts, oats, rice and coconut.
Kettering MP Philip Hollobone said local workers were highly skilled and helped to attract investment.
"Kettering is well-known in the food industry with the giant Weetabix next door to Alpro," the Conservative MP said.
"Also the A14 road is nearby with direct routes to markets in Ireland and the Continent."
Trade minister Lord Livingston was also at the opening of the new lines and said the food industry in the area was very successful at attracting inward investment.
New products are bringing in about 30% more turnover and demand for soya foods was also increasing, the firm, already employing 100 people, said.
When the firm was established, products were mainly bought by vegans and people with an intolerance for dairy foods.
Marie-Ann Ha, senior lecturer in public health at Anglia Ruskin University, said attitudes to dairy products were changing and alternatives were now being sought.
"If the soya foods are replacing sugary drinks then it is a healthy move," she said.
"There has a also been a lot of negative publicity about dairy products and they are being replaced.
"But, I do not know how long this fad might last."