Police officer Otis Goldsmith arrested over wife murder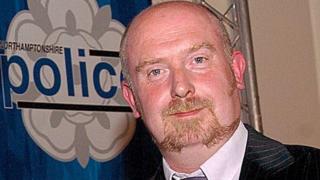 A police constable has been arrested on suspicion of murdering his wife within police grounds.
Otis Goldsmith, 49, serves with the Northamptonshire force.
He was arrested shortly after 13:00 GMT on Thursday, while off-duty, at the home he shared with his wife Jill in Wootton Hall Park, Northampton, close to the force's headquarters.
The murder investigation team "will not include anyone from Northamptonshire Police", a statement said.
A police spokeswoman said the force had been "called to an incident" in a privately-owned home, in an area which used to be police housing, on the site of Northamptonshire Police headquarters.
The house was cordoned off and had a police officer on guard on Friday.
Curtains at the downstairs window were drawn.
A tape was also placed around a black Renault Espace parked on the green opposite the property.
The force said PC Goldsmith, who is currently in custody in Northampton, had been a serving officer for more than 28 years.
Supt Chris Hillery said: "What has happened has understandably shocked and upset many people within the local community."
Records show PC Goldsmith married Jill, then a 48-year-old widow, on 18 May last year.
A neighbour, who wished to remain anonymous, described the officer as "a good guy" who had been "married a number of times" and who was "soon to retire".
The overall investigation will be led by the East Midlands Special Operations Unit, headed by Det Supt Kate Meynell with about 50 officers drafted in from across the region, including Nottinghamshire, Leicestershire, Lincolnshire and Derbyshire.
A post-mortem examination is due to be carried out at Leicester Royal Infirmary on Friday.
The Independent Police Complaints Commission (IPCC) was notified of the death on Thursday night and received a "formal referral" from Northamptonshire Police earlier.
A spokesman said the case was now being assessed "to determine our involvement".
Det Supt Meynell said: "A full and proper investigation is taking place."