Northampton M1-works crash delays 'average 29 minutes'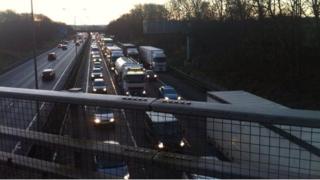 Accidents and breakdowns in M1 roadworks are delaying motorists by an average of 29 minutes - with one lasting 20 hours, figures show.
Business owner Elaine Harries said her courier company had lost around £10,000 because of the delays, at Northampton.
The roadworks, which began last August, involve central reservation replacement between junctions 19 and 15.
Highways England said its priority was safety and some drivers pushed the "boundaries" of reduced speed limits.
The figures of length of delays have been revealed through a BBC Northampton Freedom of Information request.
Plans to extend the works while the road is converted into a smart motorway - one which uses hard shoulder operations - are likely to take another 18 months to two years.
The M1 is subject to a 50mph speed limit while the works take place.
The 20-hour delay took place last November, when a lorry jack-knifed, spilling diesel across the northbound carriageway.
Mrs Harries said deliveries to her Brackmills based company are regularly delayed by an hour-and-a-half meaning she misses her own deliveries and is not paid an additional delivery surcharge,
"This is happening once or twice a week," she said. "It is adding up to an awful lot of money, around £10,000 in lost revenue alone."
Managing director of policy at the Freight Transport Association, John Hookham, said the delays were "infuriating".
But Mr Hookham, who was caught up in the 20 hour tailback himself, said there was no "great alternative" if the work had to be done.
Brian Gash, who is in charge of the project for Highways England, said some drivers are pushing the boundaries of the speed limit creating "an atmosphere of slight intimidation" for those trying to keep to it.