New owners for Rushden Lakes development land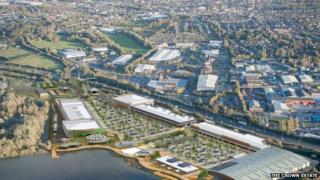 A £140m shopping and leisure complex is closer to becoming a reality after a property developer agreed to fund the scheme.
The Crown Estate has bought the Rushden Lakes site from existing owner, LXB Retail Properties.
The two companies will now work together on the development.
The complex will feature a home and garden centre, shops, eight restaurants, lakeside visitor centre and a boathouse.
The site will be based around a lake and site of special scientific interest, where people can take walks and cycle rides.
Work will start in autumn 2015 and it is due to be completed by summer 2016.
The developers say the scheme should create a total of 2,500 jobs, initially during construction and then in retail and catering once the park is built.
Regional portfolio manager at The Crown Estate, Hannah Milne, said Rushden Lakes would provide "hundreds of million of pounds of investment and hundreds of jobs".
Jon McCarthy, from LXB, said The Crown Estate would be "perfect partners", but that LXB will "remain responsible for delivering the scheme".
Rushden Lakes had been approved by Communities Secretary Eric Pickles following a public inquiry after concerns about its impact on nearby town centres.
The matter had been referred to Mr Pickles, who called in the application for further scrutiny.
Developer LXB Retail Properties submitted the original application for the brownfield site in 2011 and oversaw the planning application process with East Northamptonshire Council.