'Dangerous' chemicals stolen in Northamptonshire raid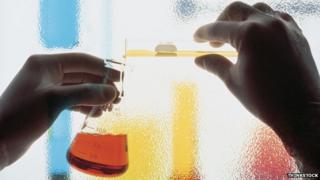 "Dangerous" chemicals including cyanide and sulphuric acid have been stolen during a raid carried out by "organised criminals", police said.
The burglary took place at a chemical processing plant in Great Central Way, Woodford Halse in Northamptonshire.
An X-ray machine and three other chemicals stored in litre bottles were stolen between Sunday night and Monday.
The chemicals - 1 gallon (5 litres) in total - are "extremely dangerous, especially when mixed together".
Police said they were each stored in one litre glass bottles with rubber stoppers. Hydrochloric acid, nitric acid and thallium were in the other three.
Det Insp Phil Mills said: "We believe these chemicals have been taken by organised criminals who want to use them in the same way the business they were stolen from use them, to process metals.
"However, these are extremely dangerous chemicals, especially when mixed together, and should only be used by experienced people who have had the relevant training."
They are labelled as hazardous and marked with relevant chemical symbols.
Police urged anyone with information to contact them.