Margaret Thatcher bus on sale after export plan fails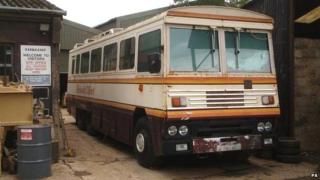 An election "battle bus" thought to have been used by Margaret Thatcher is back on the market after an Iranian buyer failed in attempts to export it.
The 28-tonne bus, built in 1983, is thought to have been used by Mrs Thatcher on a trip to Northern Ireland.
Owner Nick Mead said items found on the bus included a "blue umbrella" and a "pair of quite scanty knickers".
The bus was sold last year but the deal collapsed when the winning bidder had problems taking it out of the country.
It is powered by a 12-litre Rolls Royce diesel engine and has a top speed of 80mph.
'Appreciation society'
Capable of seating 36 people, the bus has done about 14,000 miles, is bomb-proof and was thought to offer protection from chemical attack.
Aside from former prime minister Mrs Thatcher, previous owners include the Met Police.
Mr Mead, who bought the bus in 2012, keeps it at his business in Helmdon, Northamptonshire.
He said it had also been used on the "white-knuckle ride" to transport new troops from Derry airport to Belfast.
"It's still in working order and, although it's not exactly looking its best these days," he said.
It was previously sold to the private collector for £16,940.
Mr Mead said the vehicle was too big for his yard and has ruled out plans to "become a survivalist and try to out live everyone after a nuclear war as it would be a bit boring".
He said he has had enquiries from "various people who are a bit on the scary side", but would like to see it sold to a museum, an American collector or "some sort of Margaret Thatcher appreciation society".