Northamptonshire parking permit fee rise agreed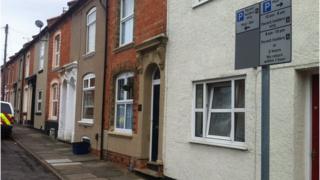 Parking permit fees in Northamptonshire are to increase to £35 a year after initial fears they could rise to as much as £60.
The county council had discussed a rise since last July to counter a £120,000 shortfall in operation costs.
The cabinet agreed to the £10 rise from £25 to £35 a year per car, despite nearly 450 people objecting to it.
Each household will be able to buy two passes and a third one for visitors, each costing the same price.
Parking permit schemes operate in areas including Northampton, Oundle and Stoke Bruerne.
Last year the council said it paid £152,479 a year to enforce controlled parking zones, as well as £27,000 on administration costs.
Annual income from parking permits was £58,486, leaving a shortfall of £120,993.