Hundreds of 'stolen' ornaments found in Northamptonshire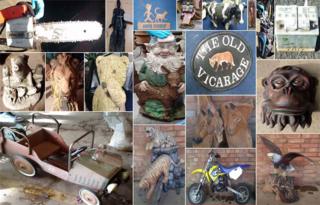 Hundreds of garden ornaments and tools have been found by police, who believe they are stolen.
The items were discovered in Daventry and rural parts of south Northamptonshire and include vehicles, power tools and numerous signs.
Five people have been arrested in connection with the discovery.
Det Insp Phil Mills said: "We are very pleased to have made these arrests and to have found a substantial number of items we believe to be stolen."
Northamptonshire Police has released a video showing the items in the hope of finding their owners.