Sekhemka action group to probe Northampton statue sale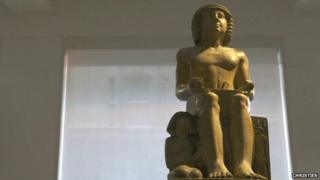 Campaigners are to investigate the legality of a council's sale of a 4,500-year-old statue for nearly £16m.
The statue of Sekhemka, an Egyptian official, was donated to Northampton Borough Council in 1880 by the 4th Marquis of Northampton.
The council said the proceeds of the sale would fund a museum upgrade.
The Save Sekhemka Action Group believes that a condition of the original Deed of Gift was that it should never be sold, making the auction illegal.
"We will also seek to establish the legality of the sale through our research into the records in Egypt to ascertain whether the statue was legally exported in 1850," a spokesman said.
The statue was purchased by an overseas buyer, who has not been identified, but the Department for Culture, Media and Sport has placed a temporary ban on its export.
This step is usually taken to help groups to raise the purchase price and compensate the new owner but the action group has no intention of bidding to buy the statue back.
Instead it proposes that the new owner puts the statue on display at one of the UK's major museums.
"We will actively pursue this aim with Arts Council England, the Museums Association, the Art Fund, and all relevant professional museum bodies," the spokesman said.
A council spokesman said: "The temporary export bar of Sekhemka has no impact on the borough council's sale of the statue.
"This is a matter for the current owner, Arts Council England and the Department for Culture, Media and Sport to resolve."
The group is also challenging the donation of a £6m share of proceeds to the Marquis of Northampton's family.
It said it would also examine borough council records to discover "the legal and financial arrangements reached with the Marquis of Northampton".