Northampton Earl Street 'sinkhole' cause unknown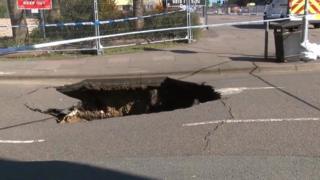 The reason why a giant crater appeared in a Northampton road has failed to be established, Anglian Water said.
Police were alerted to the 8ft (2.4m) wide hole in Earl Street, just off the Upper Mounts near the Charles Bradlaugh pub, last Thursday.
It is understood to have appeared after a car drove over that section of the road, damaging the sewer below.
A spokesman said a leak may have washed away the earth beneath the tarmac, but there was a lack of evidence.
He said the earth may have also shifted, which "happens from time-to-time", creating a void.
Seven homes were cut off from water following the collapse, but the issue has since been fixed.
Specialist storm drains are being ordered for the site and the repairs are expected to be completed by the end of the week.