Northampton station: William Carey plaque 'whereabouts' mystery solved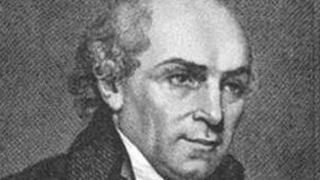 A plaque celebrating missionary William Carey has not been re-erected more than three months after it was removed during building work.
The plaque was unveiled on platform one of Northampton railway station in 2011.
When approached by the BBC, Network Rail said it was "looking into the whereabouts" of the memorial, but later said it was in storage.
It said it was talking to The Carey Experience tour and London Midland to find an appropriate place for it.
A new station building was opened on 12 January.
Margaret Williams from The Carey Experience said it was "disappointing" it had not been reinstalled.
She said: "A number of people have asked where it has gone.
"It would give a lot of people a lot of satisfaction if it were put up on the concourse to remind people of one of our famous sons."
Carey, who was born in south Northamptonshire, was a preacher and campaigner who changed thousands of lives in India.
He worked with Indian scholars and missionaries to translate the whole of the Bible into six languages and parts of it into another 30.
Carey set up a printing works to produce copies of the Bible, as well as other books and newspapers.
He also found time to campaign against infanticide, the practice of widows setting fire to themselves on their husbands' funeral pyres - known as sati - and the poor treatment of people with leprosy.
The plaque was erected to commemorate the 250th anniversary of his birth.
It marked the spot where Carey was baptised in the days when the River Nene ran through the site where the station now stands.