Election 2015: Corby taken from Labour by Tories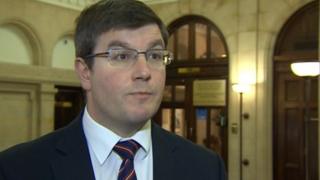 The Conservatives have regained Corby from Labour and held the rest of their seats in Northamptonshire.
Tom Pursglove won the seat with 24,023 votes, a 2,412 majority.
Andy Sawford won the Corby by-election in 2012 after the serving Conservative MP Louise Mensch resigned to spend more time with her family in New York.
The Conservatives held on to Kettering, Northampton North, Daventry, Northampton South, Northamptonshire South and Wellingborough.
'Not bickering'
Mr Sawford said he did not wish to comment on why he lost yet.
"I've spent six weeks thinking about the politics of what I say and I'm going to have to think about the next phase in my life," he said.
"If there's one thing I'm really proud of it's that we did protect some of the services at Kettering General Hospital and I came together with my Tory neighbour Philip Hollobone and we did something quite unusual to work together on a cross-party basis."
Mr Pursglove said: "It hasn't quite sunk in yet. There are a number of issues where we do need to work on a cross-party basis.
"I want to see an EU referendum, as did my UKIP opponent, and we should be working together and not bickering."