Kettering Town advert for 'little reward' manager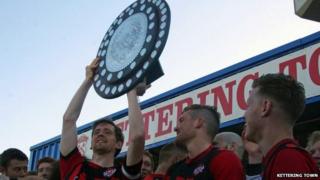 A football club, whose joint managers left, are hoping to encourage new candidates by advertising the job as "pressurised...and for little reward".
Kettering Town's managers, Scott Machin and Thomas Baillie, departed on Monday, despite securing promotion to the Southern Premier League.
The advert said the club was looking for a single manager who had experience at the new level or higher.
Neither Machin nor Ballie were in the running for the solo manager's post.
Past managers of the Northamptonshire club have included Paul Gascoigne, Ron Atkinson and Tommy Lawton.
'Ambitious, but realistic'
Ken Samuel, director and president, said: "We didn't want the advert to give the wrong impression, so it's not meant to be tongue-in-cheek.
"Following a succession of financial problems, we dropped down from the Conference, so we're not the club that we were.
"We are ambitious but we're realistic and it is a part-time job which will pay little more than expenses."
On the club's website, chairman Ritchie Jeune, said: "To continue my goal of building an entire club, not just a first team, I have decided that a single manager is the preferred option moving forward.
"This decision is particularly difficult following a championship-winning season delivered by both Scott and Tom."
The club said Ballie had not applied for the job and Machin had been rejected by the board.
The closing date for applications is 19 May.