Northampton Police and PCC axe Neighbourhood Watch grant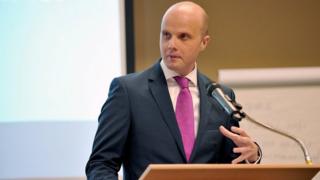 A Neighbourhood Watch grant has been axed despite a policing plan commitment to "further develop" the scheme.
Northamptonshire Police have cut the £2,500 funding, even though the group's chairman already pays £3,000 from his own pocket to keep it going.
Ian Fearnley said he felt "aggrieved" such a "small part of their budget" had been cut.
A police statement said Neighbourhood Watch had been given support to bid for other grants.
Mr Fearnley, who runs the Northamptonshire scheme from his home, said the money had paid for motoring expenses when visiting co-ordinators throughout the county.
'Very surprised'
He said police are advising him to "find charities who will give you subsistence grants".
Mr Fearnley, who volunteers 30 hours a week to run the scheme, said he did not have any more time to chase funding.
He said: "I give my time willingly for free. I provide an office. One or two bits of payment in terms of motoring expenses are such a small part of their budget."
The cut, made jointly by Northamptonshire Police and police and crime commissioner Adam Simmonds, came despite the county's policing plan saying: "We will further develop Neighbourhood Watch."
National chairman of Neighbourhood Watch, Jim Maddan, said he was "very surprised" the funding had been cut.
He said: "I would have expected Adam Simmonds to be bending over backwards to help volunteers who provide a very valuable service."
Mr Maddan said Essex Police and Crime Commissioner, Nick Alston, had awarded Neighbourhood Watch in his area £10,000.
The police statement said: "Support has been given to Neighbourhood Watch to help them bid for other grants that support the police and crime plan in more specific ways."