A43 Northampton: 'No objections' to £19m road project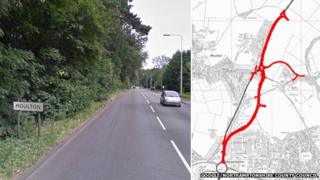 Plans are expected to be approved for a new £18.75m road in Northamptonshire.
The county council wants to create a 1.5 mile (2.5km) stretch of dual carriageway on the A43 from north-east Northampton via Moulton.
Northampton Borough Council officers are recommending councillors give their support at a committee meeting next week.
The county will give a final decision on the project at a later date.
The new road would run from the Round Spinney roundabout to the east of the existing A43 linking to a replacement roundabout at the Overstone Road/Overstone Lane junction.
A further 900m of the existing A43 heading towards Kettering would also be turned into a dual carriageway.
'Significant benefits'
The proposal aims to improve road links for the proposed 2,000-home Northampton North Sustainable Urban Extension, which is also going through the planning process.
Housing developers have agreed to provide £5.38m to the cost of the A43.
Steven Boyes, borough council head of planning, said: "It is considered overall that the development could bring significant benefits to users of the road and local residents and consequently no objections should be raised."
Barry Care, chairman of Moulton Parish Council, said: "In theory it should help traffic flow, but we remain to be convinced.
"We have raised concerns about the design of the new road, as it will require more bridges for the the benefit of existing and new residents who want to cross it without holding traffic up."
Northampton Borough Council is a consulting local authority on the plan and its planning committee meets on 9 June.
Daventry District Council, which covers the Moulton area, is due to consider its response to the plan on 1 July.
The county council, which wants to turn the whole of the A43 between Northampton and Kettering into a dual carriageway, will then make a final decision at a later date.