Silverstone owners agree to continue Jaguar Land Rover sale talks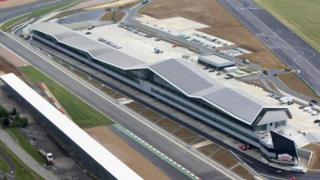 The owners of Silverstone racing circuit have voted to continue exclusive negotiations with Jaguar Land Rover about selling the site.
The British Racing Drivers' Club (BRDC) held an extraordinary meeting about the Northamptonshire site on Thursday.
The deal is thought to offer the prospect of a £33m injection in return for a 249-year lease on the circuit.
The BRDC will still own the company which runs the British Grand Prix and pay the cost of hosting the event.
A spokesman for Jaguar Land Rover said the company was "exploring potential options at Silverstone with the BRDC", but added it was "too soon to share details at this stage".
The first Grand Prix took place at Silverstone in 1950 and the race track has regularly hosted GPs since the start of the F1 championship in the same year.