Plan for £8m biogas plant at farm site in Kelmarsh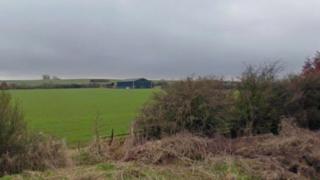 An £8m scheme to turn crops into bio-gas plant on a site near an historic hall is going before planners.
Raw Biogas Ltd has put in the plans for the facility at Wormslade Farm, Kelmarsh, Northamptonshire.
The company hopes to process 46,000 tonnes of manure and crops each year, which could produce enough bio-methane to power 2,500 homes an hour,
But Clipston Parish Council objects on the grounds that it is inappropriate so near to Grade I listed Kelmarsh Hall.
A previous plan for a wind turbine on the farm site was rejected by planners in 2013, while a scheme to build a six-turbine wind farm nearby at Haselbech, near the site of the 1645 battle of Naseby, was refused permission in 2011.
Stuart Homewood, a director of Raw Biogas, said the plant on the five acre (two hectare) site aimed to provide a more environmentally friendly way of producing the energy needs of the country.
The plant will use anaerobic digestion which uses micro-organisms to break down biodegradable material and produce bio-methane.
"We will be using farm waste, and crops such as grassland, maize and rye. We have been listening to the community and our traffic management plan avoids any additional agricultural vehicles through nearby villages," said Mr Homewood.
The plans go before Northamptonshire County Council's development control committee on Tuesday and officers are recommending the scheme is approved.
A report to the committee says four parish councils object to the plans and raise concerns that the development would damage the look of an area with historic buildings and landscape.
But the report adds there are no objections from the Environment Agency or the county's highways department.