Baby among 10 people found in lorry at service station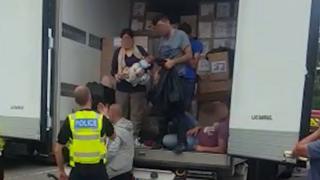 Ten people, including a baby girl, have been found in the back of a lorry at a motorway service station.
The Sun newspaper reported the baby was 20-days-old and said the group had come from Calais.
The five men, one woman, three children and the baby girl were found at Watford Gap services on the M1 in Northamptonshire on Tuesday.
The Home Office said nine were from Iraq and one was from Iran. It warned of the risks of trying to reach the UK.
A spokesman said: "This incident is of concern and is under investigation.
"Would-be migrants need to be aware that they are putting their lives, and those of their loved ones, at risk by attempting to reach the UK illegally."
Live: More on this and other stories from Northamptonshire
A Northamptonshire Police spokeswoman said officers were called to the service station at about 13:00 BST on Tuesday.
"We found 10 people - five men, one woman, three children and a baby," she said.
"They were put into protective custody, as is usual in cases like this, while immigration services were called.
"They were later handed over to immigration officials."
Northamptonshire Police have arrested 72 migrants at Watford Gap in two years between 2013 and 2015.
PC Dave Horner, who patrols the area, said lorries go there because it's a popular break point.
Speaking last year, he said: "Because of the number of hours lorry drivers are allowed to drive, the first opportunity they get is often a service station. Then (the migrants) will cut their way out or make a lot of noise."