Mark White inquest: Construction worker died after '11,000 volt shock'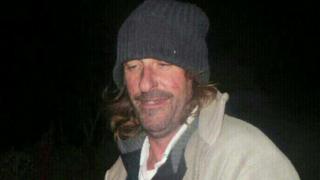 A self-employed construction worker died after receiving an 11,000 volt shock, an inquest heard.
Mark White, 47, was electrocuted when a extendable metal rake he was holding to lay a concrete bed came into contact with overhead power lines near Ashton, Northamptonshire, in 2016.
The inquest jury was told colleagues heard a "bang" and a "whizz" before he was declared dead at the scene.
A narrative verdict was recorded at County Hall in Northampton.
Northamptonshire coroner Anne Pember said Mr White, of Wolverton, near Milton Keynes, had been instructed to assist in a concrete-based structure being created in the vicinity of live overhead electrical cables.
She said "no risk assessment" was completed before he died, on Roade Hill near the village on 9 January.
The inquest was told that Mr White had been working with a group of men to build a concrete ramp at the time of the incident.
With the work almost finished, a rake attached to an extendable metal pole being held by the victim came into contact with power lines about six metres (20ft) overhead.
The extendable pole was owned by Ashton construction firm KJ Pickering, the jury heard.
Workers then described hearing the "bang" and "whizz" of the electrical current.
Emergency services, including the air ambulance, were called, but Mr White was declared dead at the scene. No other injuries were reported.
A post-mortem examination found the cause of Mr White's death was consistent with electrocution.
In a statement read to the court, the victim's partner Tracy Spiers said: "I miss Mark very much; I will never get over losing him."
Addressing the victim's family, Mrs Pember said: "I am very sorry for your loss."