Homeless man 'died from 'fall or inflicted injury'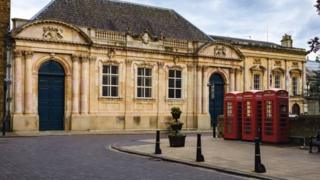 A homeless man who died shortly after being found unconscious outside his estranged wife's door could have fallen over or suffered an inflicted injury, an inquest has concluded.
Coroner Hassan Shah said Carl Morgan died from a severe brain injury.
Mr Shah said Mr Morgan had sustained a blunt force trauma injury to his head during an unwitnessed incident at about 08:50 GMT on 5 August 2016.
His life support machine was turned off two days later.
Sleeping rough
Mr Morgan's wife, Victoria Jones, said he arrived at her house in Buttermere Close, Northampton late the evening before.
She called the police and Mr Morgan, who was said to have been intoxicated, was told to leave.
He was found by officers shortly afterwards asleep on wet grass nearby. However, PC Beech said he was allowed to stay as "it wasn't cold and Carl had been sleeping rough".
He was found the following morning unresponsive on Ms Jones's doorstep and taken to Northampton Hospital.
'Run over'
The inquest heard a report from the hospital said Mr Morgan had been for treatment there six times in nine days.
The first visit taking place on 28 July after he had allegedly "been run over twice by his wife" according to the report.
Miss Jones said her husband had stepped in front of the car after a row when he spent money for bills on alcohol.
She was interviewed by police and a domestic violence order was taken out for Mr Morgan's protection.
In a statement to the coroner, Mr Morgan's brother Christopher said the couple had married in July 2016 and his brother had repeatedly contacted him to say he was being assaulted by her.
Carl Morgan's visits to hospital
July 28: Attended hospital after being allegedly "run over twice by his wife". He was intoxicated and his right ankle was swollen and tender, but there was no fracture
July 29: Collapsed in front of police while providing a statement
August 1: Brought to the emergency department in the custody of the police. He had been hitting his head on the wall of his cell and had lost consciousness for five seconds
August 2: Had a seizure at the council offices while looking for housing
August 3: Had a seizure in hospital
August 5: Admitted to hospital with a serious brain injury having been found unconscious
Pathologist Dr Mike Biggs said Mr Morgan had suffered a serious brain injury on 5 August that was "likely to have happened relatively shortly before he was found".
He added there was "no way to tell" if the injury had been caused by a fall or as the result of an "inflicted injury" such as a kick or punch.
He said Mr Morgan had abrasions on "multiple areas of his head, torso and limbs".