Hotel plan for Northampton Fat Cat bar after 2012 fire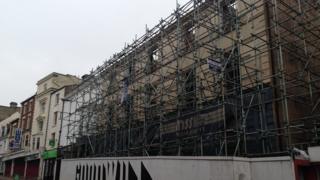 A Grade II-listed building gutted by fire more than six years ago is set to be turned in to a boutique hotel.
The Fat Cat bar, in the former Angel Hotel building, in Bridge Street, Northampton was forced to close following the blaze in January 2012.
New plans submitted to the borough council would see a four-star hotel constructed, with a bistro and a bar.
Adrian Ringrose, from Stimpson Walton Bond, representing the developers, said it "would boost the area".
He said, if planning permission is granted, work could start in the autumn and would take 18 months to two years to finish.
The developers said a structural survey of the building showed the fire had caused "significant internal damage".
'Deteriorated'
It added that masonry and stonework has deteriorated due to lack of repairs.
The report recommends the Angel Street and Bridge Street elevations should be demolished, despite their Grade II listing.
Mr Ringrose said the condition of the building was "very poor indeed".
"The viability of trying to keep the elevations don't add up," he said.
"We are trying to recreate the elevation from the 1800s. Anything has to be better than it is at the moment."
The building was Grade II-listed in January 1976 and is believed to date from the 1700s. The current facade dates from about 1905.
Heritage England, the body responsible for listed buildings including the Angel Hotel, said they have been consulted on the application and are in the process of looking at it and preparing an advice report.