Northampton McDonald's ammonia attack accused 'wanted to wash trainers'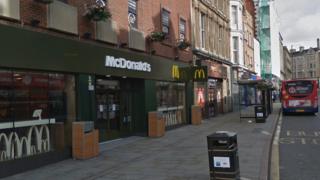 A man accused of involvement in a gang-related ammonia attack said he searched for the substance online in order "to wash his white trainers".
Ammonia was thrown outside McDonald's on The Drapery, Northampton, last July, injuring two police officers and two others, the town's Crown Court heard.
Taishon Whittaker, 26, of Northampton, denies four charges of administering a poison or noxious substance.
He told the jury he had only ever used ammonia as a cleaning fluid.
'Full force'
Prosecuting barrister James Keely told the court that Mr Whittaker was on a night out with members of the TRU gang from Wellingborough when they spotted Devonte Harris, a rival gang member from Northampton, in the town.
There was a confrontation between the groups of men in McDonald's and prosecutors say Mr Whittaker and the men he was with conspired to attack Mr Harris with ammonia.
Mr Keely said: "You were going to grab him...so that he would get the full force of the acid in his face."
Mr Whittaker replied : "No, who would do that?"
He added: "If I was attacking him I would have punched him in the face straight away."
After the attack, police found online searches for ammonia on the defendant's phone and two bottles of the substance in a hatch above his bedroom in his parents' house in Wellingborough.
He denies knowing how they got there and told the court he had searched for ammonia because that was what made his trainers glisten.
During the trial, Mr Whittaker said that Mr Harris was a member of a Northampton-based gang and was involved in a long-standing row with his cousin, but denied being in a gang himself.
The case continues.