Northampton Borough Council: New chief exec at Cobblers loan council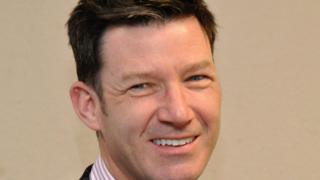 A council at the centre of controversy over a missing £10.25m loan has appointed a new chief executive.
George Candler joins Northampton Borough Council from Shropshire Council, where he was director of place and enterprise.
Seven people have been interviewed by police over the "missing millions" which were loaned to Northampton Town.
Mr Candler, who declined to comment on the loan, promised to bring an "exciting new vision" to the town.
He said Northampton has "a wealth of beautiful architecture" and pledged to ensure it grows "as a great place to live, work and study in, and visit".
Borough council leader Jonathan Nunn said Mr Candler would ensure the town "punches its full weight".
Mr Candler will join the council at the end of April. He will replace current interim chief executive, Simon Bovey, who has been in the role since September.
Mr Bovey will return to Daventry District Council, where he holds the post of deputy chief executive.
Mr Nunn said Mr Candler impressed "with his enthusiasm, positivity and ideas of how we can capitalise on Northampton's strengths".
The new chief executive added he has already spent time getting to know Northampton, which he said "is clearly a place full of ambition with people who want to make things happen".
The previous permanent chief executive David Kennedy left the council amid an ongoing police investigation into "alleged financial irregularities" regarding the authority's £10.25m loan to Northampton Town Football Club for the redevelopment of the Sixfields stadium.
A council press officer said the authority will not be "commenting on any Sixfields stories because of the ongoing police investigation" and that Mr Candler "will not be commenting on anything" until he starts work.