Plans for huge chicken farm in Rushden withdrawn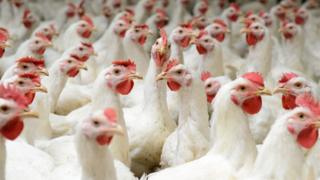 Plans for a chicken farm with the capacity for up to 540,000 birds have been withdrawn.
Bedfordia Farms wanted to build 10 poultry buildings in Rushden.
But the application, which was opposed by a petition signed by more than 8,000 people, has been retracted just a day before councillors were to consider it.
The plans had been recommended for refusal by East Northants Council officers, but a reason for the withdrawal has not been given.
The company has been contacted for a comment.
As reported by the Northamptonshire Telegraph, the buildings would have been built on land near Westwood Anaerobic Digestion Plant in Bedford Road.
Campaigners argued the animals would live in an area equivalent to less than an A4-sized piece of paper.
In November, Peter Bone, the Conservative MP for Wellingborough, said of the plans: "It is no way to treat thinking, feeling creatures. To me, it feels completely un-British."