Northamptonshire County Council: Tory group 'no confidence' in leader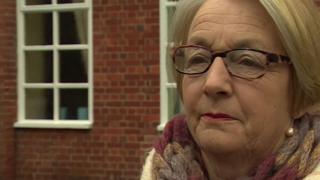 The leader of a financially troubled council has lost a no-confidence motion among her Conservative group members.
Northamptonshire County Council is currently facing a government inspection into allegations of financial mismanagement.
A private Tory group meeting backed a motion of no-confidence against council leader Heather Smith. Ms Smith remains leader of the council.
The full council is voting on a package of savings of about £40m on Wednesday.
For her to go as leader of the council either she needs to resign or there needs to be a vote of no confidence at a full council meeting.
Earlier this month the council brought in a "section 114" notice, banning new expenditure.
At the time Ms Smith said it was the "perfect storm" of increases in demand for services and reductions in government funding.
"We did warn that we would become unsustainable," she said.