Northampton newlyweds walk home after driver caught speeding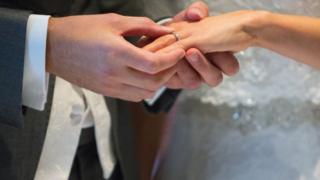 A newly married couple had to abandon the car they were going home in after their driver was caught speeding and found with no insurance.
The bride and groom "ended up walking the rest of the way home" in Northampton early on Sunday, PC Dave Lee tweeted.
The BMW driver had been speeding at 46mph in a 30mph zone.
"Thankfully, [the couple]... were in extremely high spirits," the Northamptonshire Police officer said.
PC Lee told the BBC the driver was pulled over as he drove away from the town centre.
"On carrying out checks we were unable to find a valid insurance policy for the driver," he said.
"It wasn't until we made the decision to seize the car, that the bride and groom got out.
"Naturally, if they were any further away we would have probably offered them a lift home."
PC Lee said the driver was reported for speeding and also driving without insurance.