Liam Hunt: Jury dismissed in case of two remaining defendants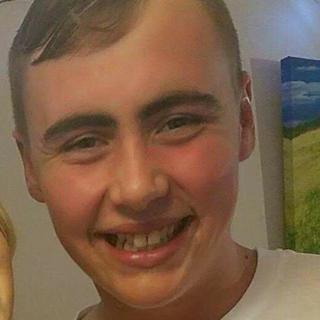 A jury in the trial of two defendants accused of involvement in the murder of Liam Hunt has been discharged.
The case against Derice Wright, who pleaded not guilty to murder, and a 17-year-old boy charged with violent disorder was dismissed.
Kane Allaban-Hamilton, 18, had previously been found guilty of murdering Mr Hunt, 17.
Three other defendants were found guilty of manslaughter, while James Dodd, 19, was cleared of all charges.
Mr Hunt suffered four stab wounds, including a fatal wound to his neck, during an attack in St George's Street in Northampton on 14 February 2017.
Northamptonshire Police and the Crown Prosecution Service have until 11 May to decide if they will seek a retrial for Mr Wright and the 17-year-old, who cannot be named because of his age.
On 25 April, the jury at Northampton Crown Court reached a unanimous verdict against Allaban-Hamilton, from Pleydell Gardens, Delapre, Northampton.
Aaron Joseph, 21, from Walthamstow, east London; Lee Warren, 18, from Queen's Park, Northampton and a 17-year-old boy, who cannot be named for legal reasons, were found guilty of manslaughter.
They will be sentenced at a later date.
Det Insp Phil Mills, who led the investigation, said Mr Hunt had "his whole life ahead of him".
"Not only did he lose his life in a senseless attack," he said. "His murder has caused pain and suffering to his family and friends from which they will never fully recover."