Northampton Town: Stalled stadium plans 'very frustrating'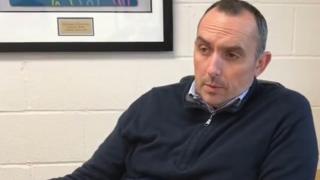 A football club chairman has accused a council of being "an immovable force" over plans for a new stand due to have been funded by a missing £10m loan.
Northampton Town owner Kelvin Thomas said dealing with the borough council had been "very frustrating".
The club was loaned £10.25m by Northampton Borough Council to rebuild its stadium but the money went missing.
The borough council said it would continue to work "privately" with the club.
The money had been leant to the club, then owned by David Cardoza, to rebuild its Sixfields stadium and redevelop nearby land, but the work was not completed after contractors were not paid.
Earlier this month the BBC revealed the borough council has spent more than £1m trying to claw back the missing loan.
Mr Cardoza sold the club to Mr Thomas in November 2015, just days before it had been set to go into liquidation.
The new chairman paid off £166,000 owed to HM Revenue & Customs ahead of a winding-up petition hearing.
The club and the borough council have been in discussions over a new development at Sixfields ever since.
A spokesman for the council said "We will continue to work privately with the Football Club on these matters, but we believe that NTFC are in a position that enables them to proceed with the completion of the East Stand."
Mr Thomas told the club's YouTube channel that the ongoing East Stand saga was "up there with being in a relegation position".
The Cobblers were all-but condemned to relegation from League One after losing 1-0 at Walsall at the weekend.
"The criticism we sometimes get [about the stand] is just plain wrong," Mr Thomas said.
"It's as if we are somehow responsible, when we are just not."
He added the club feels "quite strongly" that it has been "treated very harshly" by the council.
"We've found a lot more issues than we ever thought we would find," he said.
A police investigation into the missing loan remains ongoing.