Car smashes into house in Nottingham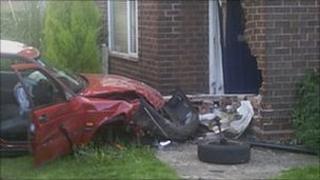 A car has crashed into a house in Nottingham narrowly missing the family who were inside.
Nottinghamshire Police were called to Southwold Drive in Wollaton just after 1730 BST on Saturday after the vehicle hit the front door of the house.
The couple who live in the house with their 11-year-old daughter said the car stopped "about a foot away" from them.
No-one in the house or the car was injured in the accident.
The sound of the car crashing into the house was so loud that the occupants thought there had been an earthquake, one member of the family told the BBC.
'Really frightened'
Neighbour Tony Wilson said: "I thought there was going to be serious casualties, to be honest.
"What really frightened me was that the owner of the house has a young daughter and if she was playing in the front garden it would have completely taken her out."
The occupants of the house said they thought two cars had collided outside the house and one of them hit a fence and then had spun into the house.
The accident caused "significant structural damage" to the house, police said.
City council workers were making the building safe.
The family said the damage was covered by insurance but they cannot go home until the workers have finished making sure it is structurally safe.