West Bridgford street parking permit plans scrapped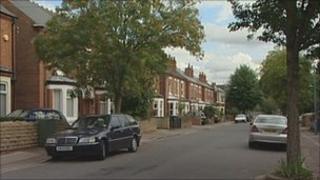 A resident parking permit scheme proposed for a Nottinghamshire suburb will not now go ahead.
Nottinghamshire County Council wanted to introduce a parking scheme in the Edward Road and Lady Bay areas of West Bridgford.
It had asked people whether they wanted resident parking permits last year and 60% voted in favour of the scheme.
However, a recent and second consultation showed an overwhelming majority were now against the plans.
In the Edward Road area 88% voted against the scheme, while in Lady Bay 91% were opposed to parking permits.
Cover the costs
Homeowners were angry they would be charged £25 for a permit for each car.
A county council spokesperson said: "We consulted on these schemes because residents had asked us for them.
"But as the latest consultation shows they now don't [want the scheme], clearly we won't be forcing them on them.
"These schemes don't make money for the council.
"Implementation is paid for by the council and the £25 permits only partly cover the costs of administration and enforcement."