Woman found dead after Newark fire yet to be identified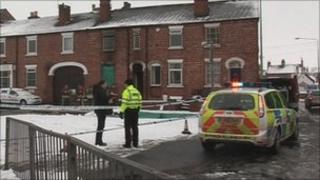 A woman found dead after a fire in Nottinghamshire may not be formally identified for several weeks.
Fire crews believe an explosion may have caused the fire, which broke out in a terraced property on Kings Road, Newark, at about 1530 GMT on Friday.
The death is not being treated as suspicious.
Police said the victim was believed to be Janet Clark, 62, who lived at the property but the condition of the body would delay full identification.
Ms Clark's family have been informed of the incident.
A post-mortem examination will take place next week.
A full forensic examination has now been carried out on the property.
A neighbouring home was also damaged and several nearby properties were evacuated.
David Stephens, of Nottinghamshire Fire and Rescue Service, said: "We're looking for the cause of the rapid development of the fire. That's unusual - for a fire to develop that rapidly.
"We're also going to look at the statements made by witnesses who mentioned hearing an explosion. We've also got glass debris across the road, which supports the fact there was an explosion prior to, or just before, the fire. "