Nottinghamshire County Council takes delivery of grit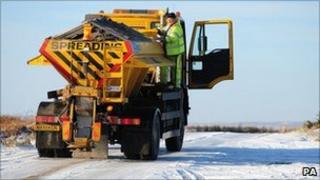 Nottinghamshire County Council is starting to take delivery of grit from Peru to help boost its supply.
Last month the authority said it had used more than three-quarters of its initial stock of 14,600 tonnes due to heavy snowfall.
The authority ordered 6,000 tonnes of grit which will be delivered to its highways depots, in 250 to 500 tonne loads, until 20 January.
A new £1.4m salt storage barn has enabled the council to store more grit.
Councillor Richard Jackson, cabinet member for transport and highways, said: "We are determined to keep on top of our grit supplies and are confident that fresh deliveries of imported grit will continue to keep us on track.
"It is vital to keep the county's A and B roads and major bus routes open and available, and the county council will continue to monitor deliveries and usage on a daily basis."