Rempstone Hall nuns 'excited' by convent switch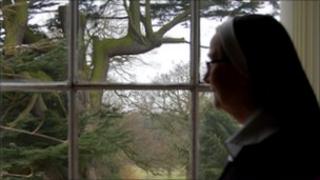 Nuns who have been living in a Grade II-listed building for 30 years are moving to a new convent.
In 2010, the Anglican Benedictine sisters put Rempstone Hall, in Nottinghamshire, on the market for £2.5m.
They have since sold the property and will be moving to a purpose-built convent later in the month.
Reverend Mother Mary Luke said: "It's a bit nerve-wracking in some ways but exciting in others."
The nuns bought the 18th Century mansion, with its 22 acres, for £110,000 in 1979.
'Made do'
Mother Mary Luke, who is the convent's Mother Superior, has mixed feelings about Rempstone Hall.
"I shall miss the grounds and the beauty of the place but the house itself was not built as a convent and it is quite inconvenient at times."
She highlighted impracticalities like having to use a step-ladder to open windows and the larder being separate from the kitchen.
"We've made do and it's been a lovely place but it will be very nice to be in a purpose-built convent."
The new convent is located in Costock in south Nottinghamshire.
Rempstone Hall has changed ownership many times during its 218-year history.
It is thought to have played host to a number of illustrious guests, including Lord Byron and Florence Nightingale.