Police issue CCTV images of Pinxton railway trespass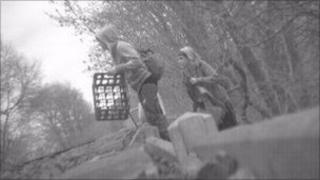 British Transport Police (BTP) has released CCTV images of two people captured trespassing on a railway line in Nottinghamshire.
The pair were seen on the line close to Mill Lane, in Pinxton, on 25 February.
Sgt Rob Bowley, from BTP, said: "The images show two people, one carrying a milk crate and the other a plastic bag, as they entered the railway line.
"I cannot emphasise the dangers of trespassing on the railway strongly enough."
'Lives at risk'
An inquiry has started into the incident and police have appealed for anyone with information to contact them.
BTP has warned young people they are putting their lives and the lives of train passengers at risk if they play on railway lines.
Richard Pedley, community safety manager for Network Rail, said: "Not only are these people putting themselves in serious danger, they are potentially causing long delays to rail passengers.
"The live railway can be a dangerous place and the message is simple; stay away."
Trespassing on the railway is a criminal offence and people can be fined up to £1,000.