Nottingham rescue dog wins national award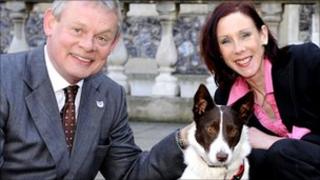 A dog from Nottingham, who managed to escape after being tethered and abandoned beneath a caravan, has been given a national award.
Border collie Penny won the category for best rescue story at the Wetnose Burgess Rescue Awards 2011 in London on Friday.
The awards celebrate the work of small, independent rescue centres that help abandoned animals.
Her new owner Ellen Stevens, said: "She's taught me a lot about myself. She's made us so happy."
The event attracted Queen guitarist Brian May, Doc Martin star Martin Clunes, Benidorm actor Sheila Reid and Peter Egan from 1980s sitcom Ever Decreasing Circles.
"She [Penny] was an absolute star with all the celebrities - the star of the show," said Ellen.
"[Martin Clunes] loved her. He picked her up and kissed her head."
Tragic life
Penny was pregnant when she was tied up beneath a caravan in Ireland.
She managed to escape to find somewhere safe to have her puppies.
But she ended up getting caught in a fox snare and had to have her leg amputated. Four of her five puppies died.
Penny was rescued by an Irish animal shelter and was eventually was re-homed with Mrs Stevens.
"As soon as she [arrived at our home] I just fell in love with her," Mrs Stevens said.