Nottinghamshire voluntary group funding is slashed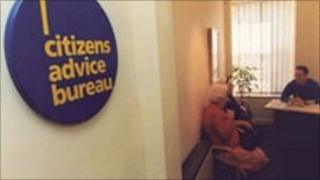 Nottinghamshire County Council has cut the funding it gives to voluntary groups by about a third, it has been revealed.
From April it will be awarding £1m less to charities like the Citizens Advice Bureau (CAB) and Women's Aid.
More than 100 groups or services have been written to informing them their grants from the authority will be reduced or scrapped.
Some of the biggest cuts have been to older people's services and the CAB.
The county's CAB service will lose about 40% of its funding.
Tory-controlled Nottinghamshire County Council had planned to halve its £3.3m contribution to groups like the Citizens Advice Bureau.
But following a public consultation, it reinstated £450,000 of proposed cuts from its reserves.
'Feeling the pinch'
For the first time in the council's history, an advisory panel of councillors from all political parties considered the vast majority of grant aid to be awarded by the authority at a meeting last week.
Previously, cabinet members approved the grants in each of their areas of responsibility.
The council will be awarding £2,079,988 in grant aid for 2011/12 compared to £3,156,345 during 2010/11.
Deputy leader, Councillor Martin Suthers, said: "We are feeling the pinch due to reduced government grants and increasing demand for a number of critical services that we carry out.
"We have worked hard to keep the reductions in grant aid affecting children and young people to a minimum to help ensure the next generation has a good start in life and is set on the right track for the future.
"We are keen to work with voluntary groups affected by a reduction in grants to ensure they make the most of their money and help them make the necessary savings whilst protecting their front-line service."
Sue Davies, from the CAB in Sutton-in-Ashfield, said it would have to drastically reduce its services.
"We are going to have to shut all six outreaches across the [Ashfield] district which is not good for people who want help locally", said Ms Davies.
"Demand is increasing, we have queues down the street.
"We are going to keep the main office in Sutton open but we will have to reduce our service delivery."