Newark ball bearing factory raid remembered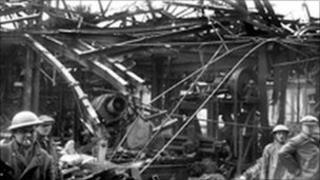 The 70th anniversary of the Blitz on London and the attacks on strategic industrial cities and ports attracted widespread coverage in 2010.
But even small towns and obscure locations were targeted by German bombers.
In the market town of Newark in Nottinghamshire, a memorial has been unveiled to 41 workers killed when a ball bearing factory was flattened in a daylight raid.
The exact number of deaths will never be known but many workers were killed.
The factory is still on the same site, beside the railway line which led the single Heinkel bomber right to the factory gates.
The initial devastating attack was followed up by a second bomber later in the day.
Marker table
On 7 March 1941 thousands of workers at the Ransome and Marles factory in Newark heard the warning sirens.
Most made for the shelters and the secret underground hospital on the site.
But others dived underneath a huge metal marking table in one of the engineering workshops.
Chris Grant, son of one of the workers, said: "Apparently my dad always said that if there was a raid they felt they were always going to be safer getting under this very heavy marking table rather that running out in to the open to go to the air raid shelters.
"But the first bomb to be dropped actually was a direct hit on that marker table."
Many more died as the bomb tore through the workshops.
Most of the victims were buried in Newark Cemetery and the funerals lasted four days.
Ransome and Marles was targeted because it made ball bearings for the defence industry - and many ended up in the gun turrets of battleships.
The company is now known as NSK and is owned by a Japanese firm.
'Absolutely horrific'
Bert Emerson, who will be 90 this year, is one of the few survivors of the attack.
He said "My wife was a typist in one of the offices and I stopped to speak to her when the first bombs dropped.
"I pushed her to the ground and laid on top of her. All the walls came down - we were covered in glass but we both got up without a scratch.
"If I'd have carried on to the tool room I could have been there when a bomb dropped, so I think I'm one of the luckiest people alive."
Mr Emerson was one of the first-aid workers and after helping survivors he had the task of recovering bodies - and body parts - the next day.
"It was really horrifying. It wasn't until you got home and you sat down and thought about it.
"It's something I wouldn't want to go through ever again. I was only 19 years old and I'd never seen anyone dead before.
"But in those days there was no counselling - you just had to get on with it."
Another Newark resident who remembers that day is Ernest Matchett, now 85.
He said: "It had a terrific impact, there's no doubt about that. It was absolutely horrific.
"It's difficult to realise that it actually happened here in Newark - we didn't think we were that important. Things like that never really happen around here - not even during the war."
For years the only memorial to the 41 workers was a plaque and a tree on the factory site.
A memorial incorporating the names of those who died and a piece of wreckage salvaged from the bombed factory was unveiled at Newark Town Hall.
Mr Grant, who is a former mayor of Newark, said it had taken some years for the campaign to bear fruit.
Many had felt it wrong that members of the armed forces who died were commemorated on a memorial but not those who died making a valuable contribution to the war effort, he said.
"At long last they will be remembered," he said.