Winter weather 'cost Redhill leek farmer £1m'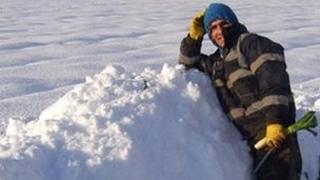 A Nottinghamshire farmer says the cold winter has cost him a million pounds.
John Hammond, from New Farm at Redhill, said the snow and frost had devastated his crop of leeks and he could lose up to 70 acres of the vegetables.
Mr Hammond said he should be harvesting the leeks now but because of the severe weather in December and January, they had not grown sufficiently.
In order to supply supermarkets and shops he has spent thousands of pounds importing leeks from abroad.
He is now negotiating with his customers to help him withstand the loss.
T Hammond & Sons have 1,600 acres of land and grow many other vegetables including carrots, cabbages, potatoes and parsnips, all of which survived temperatures as low as -18C in December.
After getting used to mild winters, Mr Hammond said he might have to go back to more traditional techniques to combat harsher weather.
"Progress isn't always the best thing," he said.
"We'd make sure things get stored earlier, so white cabbages inside the shed by the end of November, [and] we'll grow more frost-hardier leeks."
However, Mr Hammond said if there was not such a demand for out of season produce such as leeks, it would be less difficult for farmers.
"If you're not trying to beat mother nature, it's easy," he added.