Maypole returned to Wellow village in Nottinghamshire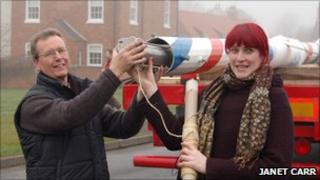 A new maypole is in position in a Nottinghamshire village after local people raised £5,000 to pay for it.
Wellow's previous pole, which had been in place for 33 years, was taken down in November after being declared unsafe due to corrosion.
Janet Carr, of the town's maypole committee, said it was remarkable it managed to raise the funds so quickly.
Nottinghamshire County Council provided a further £2,500 to help make sure the structure was replaced.
"We've raised well over £5,000 in less than three months and that's come from individual contributions," said Mrs Carr.
"People have just put their hands in their pockets, it's been marvellous."
A celebration marking the return of Nottinghamshire's only permanent maypole will take place on 26 March.