Rufus Hound gives BBC DJ Mark Dennison gig support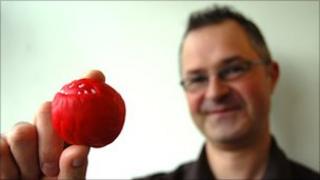 Comedian Rufus Hound has given BBC Radio Nottingham's Mark Dennison tips ahead of his Red Nose Day stand-up gig.
Dennison is performing a four-minute set at Just The Tonic Comedy Club, in Nottingham, for Comic Relief on Friday.
Hound, who is performing on the same bill, told the aspiring comic: "If an idiot like me can have a living doing it it can't be that hard."
The comedian added: "I'm sure you'll be amazing."
Hound, who won Let's Dance For Sport Relief, with his spoof of Cheryl Cole's hit Fight For This Love, told Dennison how nervous he was during his first gig.
'Own the space'
He said: "My right leg shook so much I was thinking of jacking in comedy and becoming an Elvis impersonator."
Musician and stand-up comedian Mitch Benn also gave the BBC Radio Nottingham man some advice.
He said: "You have to command the attention of the room and be funny as and when you want to be funny.
"You've got to own the space while you're up there."
Those who want to show their support for Dennison can text "NOTTS" to 70011.
Texts cost £1 plus standard network message charge, with the £1 going to Comic Relief.
Those texting must be over 16 and the bill payer must have given permission.