Casey Brittle murderer given life at Nottingham Crown Court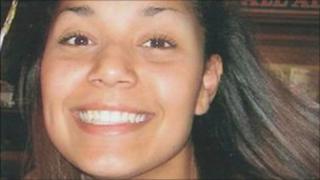 A Nottingham man has been given a life sentence after admitting murdering his partner.
Mother-of-one Casey Brittle, 21, was found with fatal injuries at her house in Springfield Street, New Basford, on 3 October 2010.
At Nottingham Crown Court on Friday, Sanchez Williams, of no fixed abode, admitted the attack on Ms Brittle, who died of head injuries.
Williams, 27, was told he must spend a minimum of 15 years in prison.
Speaking after the court case, Det Ch Insp Kate Meynell, who led the investigation, said: "Sanchez Williams is a violent man who had a history of abusing his partners and making them fear him.
"Casey was well-known and popular and she dearly loved her young daughter.
"She touched the lives of many people and they will treasure her memory.
"Now that Williams has finally admitted to his dreadful crime, I hope that in some way it will help Casey's family try and find a way of dealing with their loss and to cope with life without her."