Man, 21, shot in leg in Nottingham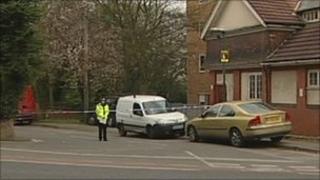 Three men have been arrested after a 21-year-old man was shot in the leg in Nottingham.
The shooting happened in The Crescent area of Mapperley Park at about 1800 GMT on Sunday.
The victim was taken to the Queen's Medical Centre and treated for a minor leg injury, said police.
A cordon was in place at the scene and house-to-house enquiries were being carried out, according to the Nottinghamshire force.