Creswell Crags on world heritage shortlist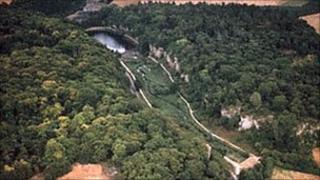 A prehistoric site on the border of Nottinghamshire and Derbyshire could become a World Heritage Site.
Creswell Crags, a series of limestone caves occupied between 50,000 and 10,000 years ago, has produced numerous tools and unique rock art.
World heritage status recognises areas, such as Venice and the Great Barrier Reef, which have global cultural significance.
The site is one of 11 UK nominations, including Jodrell Bank and Chatham.
Bone and flint artefacts have been excavated from the caves since Victorian times but the carvings were only discovered in 2003.
These give a glimpse of life in Britain during the last Ice Age.
The director of Creswell Crags, Ian Wall, said the nomination was "fantastic news".
He added: "It's a tribute to everyone who has worked on the site for the past 20 years.
"What is really important is that we have been selected by an independent panel and it is their view that Creswell Crags is on a par not just with world sites but sites in this country, including Stonehenge and Hadrian's Wall."
Managers said they had first applied for World Heritage status in 1986 but a large amount of work had been done in the area since then.
A statement from the Department for Culture, Media and Sport said the new "tentative list" was being submitted to Unesco with the aim of nominating new sites from 2012, but there would not necessarily be a new nomination every year.