Nottingham University saves DH Lawrence centre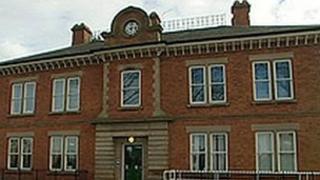 A £100,000 grant from the University of Nottingham will help save an embattled heritage centre dedicated to author DH Lawrence.
The future of Durban House in Eastwood, Nottinghamshire - where Lawrence collected his miner father's pay - has been in doubt for three years.
University spokesman Karen Cox said the centre would be used for summer schools, lectures and exhibitions.
It will continue to be run by Broxtowe Borough Council.
Lady Chatterley
"We have been working with Broxtowe Borough Council on this for years… through lectures and the annual DH Lawrence Festival," Mrs Cox said.
"We want to do more work out in local communities. We will look to use Durban House as a base to work with local schools and colleges."
The university has a collection of Lawrence's letters, photographs and writings.
Day-to-day operation of the centre will remain with the council, which will restore Saturday opening to make Durban House more accessible.
Durban House was built in 1896 for the Barber Walker mining company which employed Lawrence's father.
It has exhibits on the author's life and copies of his most controversial book, Lady Chatterley's Lover, as well as photographs and displays on Eastwood.
The DH Lawrence Centre was visited by more than 30,000 people in 2009 but cost about £150,000 a year to run.
Lawrence, who studied at the University of Nottingham from 1906-08, was born in 1885 in Eastwood. He died in 1930.