Bingham, Warsop and Wollaton police stations will close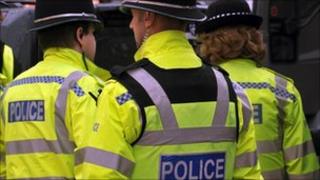 Nottinghamshire Police Authority has approved plans to close three police stations across the county.
Bingham, Wollaton and Warsop stations will close plus nine neighbourhood police contact points, following an estates review.
Neighbourhood police officers at the 12 sites will be relocated to council premises or shops, the authority said.
The closures will save £260,000 in rent and running costs and raise £1.2m from the sale of buildings.
The police contact points affected are North Leverton, Bilsthorpe, East Leake, Misterton, Hickling Court, Barrowhill Walk, Shireoaks Court, William Kaye Hall in Mansfield and Radcliffe-on-Trent.
The plans were approved by the authority on Wednesday.
'New technology'
Nottinghamshire Police is facing a funding shortfall of £10.3m in 2011/2012 following the government's Spending Review.
Chief Executive Kevin Dennis said: "The authority believe that the public want to see the budget used to preserve police officer numbers, not on maintaining buildings.
"Sharing premises with other organisations will help achieve the savings targets while retaining local visibility and accessibility.
"This is helped by previous investment in new technology which means that more work can be carried out 'on the move' in the community, rather than out of sight 'in the station'."
The police authority has agreed no sites will close until alternative premises have been found.
The chairman of Bingham's Neighbourhood Watch group said members were concerned at the closure of the town's police station.
Gordon Sanders said: "At the moment we are just waiting to see how this develops and where they are planning to re-site the police officers."