Sir Jesse Boot bust vandalised in Nottingham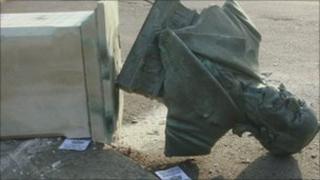 The bust of Sir Jesse Boot on Nottingham University Boulevard has been badly vandalised.
Eyewitnesses said it was pushed over. The bronze was covered in political leaflets but left undamaged, although its concrete plinth needed repairs.
It followed a visit to the Boots site by David Cameron and Nick Clegg - when the location was revealed as one of the government's new enterprise zones.
Eddie Curry, from the city council, said a stone mason had been called out.
He said: "We've taken steps today to secure the bust and ensure that doesn't go missing. It's in a safe place.
"This afternoon a stone mason came out to re-set the pillar section onto the stone foundation base, so we've taken some steps immediately to try to rectify [the situation] and the potential for anybody else to be injured from the pillar being left on the ground."
Jesse Boot was a major benefactor to Nottingham and donated land at what is now Highfields Park.
In a short statement a Boots spokesperson said the company was disappointed by the vandalism and added that "Jesse's enormous contribution towards the development of the University of Nottingham was one of his most significant gifts to the city."
The University of Nottingham also condemned the vandalism.