Nottinghamshire's first zoo gets go-ahead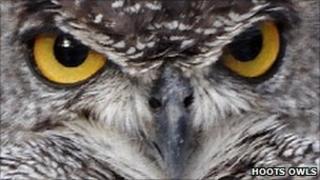 An animal centre in Nottinghamshire has become the county's first zoo.
Manor Farm, in East Leake, was told it needed a zoo licence after the introduction of a large number of rescued owls from around the world.
A zoo licence is required when the animals kept are not normally domesticated in Great Britain.
George Brown, spokesman for the centre, said acquiring the licence from the council had been a rigorous, in-depth process.
"We found out we had to have a zoo licence back in February last year," said Mr Brown. "And it was presented to us on 14 March.
"We've had umpteen vets' visits and inspections from Defra (Department for Environment, Food and Rural Affairs)."
Macaw and tortoise
The owls, 27 different breeds, were rescued after mistreatment at the hands of previous owners.
The Defra inspections included making sure aviaries were big enough for owls to live in and that there was a good cleaning regime.
Rushcliffe Borough Council, which issued the licence, had to approve plans for the site and oversee policies for potential animal escapees.
Manor Farm Animal Centre also has a collection of other livestock including a macaw, a tortoise, llamas, guinea pigs, rabbits and donkeys.