Developers invited to bid for Mansfield projects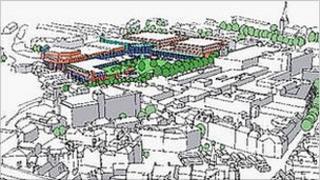 Developers for two major building projects in Nottinghamshire are being sought.
Mansfield District Council has invited applications to build a retail and leisure development on the 4.25 hectare (10.5 acre) Stockwell Gate North site.
The authority is also looking for proposals for the former indoor market site, next to the Old Town Hall.
Officials said a questionnaire was available online until 28 April and a shortlist would be drawn up afterwards.
The Stockwell Gate North site includes the current bus station, due to relocate in February 2013, the Walkden Street multi-storey car park and a former Tesco.
The 576 square metre (6,200 square feet) old market site is currently used as a temporary car park.
Preliminary work on the new £11.6m bus station began earlier this month.