Nottingham band The Barnum Meserve was born in a van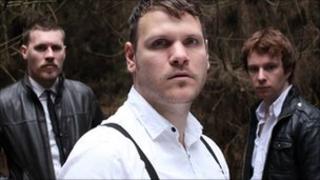 "I slept in my van for a year and wrote stuff on guitar," said singer Leon Wiley. "I worked away on oil rigs for a bit so that's where I lived."
It was there, in the most confined of spaces, that the idea behind The Barnum Meserve was born.
And, in 2007, after reacquainting himself with an old friend, Dylan Griffiths, and recruiting drummer Paul Moss Pearce, things took off.
"I was buzzing," said Dylan, after their first practice. "I thought 'you know what? I think we're on to something here.'"
Popular music
Leon and Dylan met at Clarendon College, now New College Nottingham, on a popular music course.
They formed Splint and played the now defunct Junktion 7 a "billion times", and Rock City, and had a small tour of Germany.
They split and went their different ways, in 2005.
The Barnum Meserve's tracks, including Broken Window and Autumn Park, have been described as haunting, atmospheric and surprisingly heavy, despite the use of a piano.
"We go through different periods," said guitarist Dylan Griffiths. "At the moment we're writing a bit more epic, loud tracks because it is one of our trade marks."
Band dream
The band dream of playing the main stages at the Reading and Glastonbury Festivals.
"If you don't set your goals high then there's no real point getting in to it [music]," said Dylan.
The band's debut album is nearly ready but Dylan said the band are still looking for a record label which can see their full potential.
For more information about The Barnum Meserve visit their MySpace site.