Vandalised Boot statue restored to plinth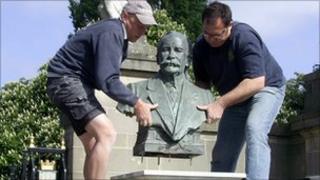 A bust of the man who founded Boots the Chemist has been restored to its Nottingham plinth after being vandalised.
The memorial to Sir Jesse Boot was pushed over when David Cameron visited the city's Boots factory last month and political leaflets were found nearby.
The attack was condemned by Boots and Nottingham City Council.
After repairs, mainly to the plinth, the bust was put back at the site at the University of Nottingham.
Jesse Boot transformed his family's Nottingham herbalist store into a national company in the second half of the 19th Century.